Experience The Freedom Of...
Untethered Steering – from Tip to Clip

Many factors impact wire performance including tip design, wire support and torque response. Fundamental to guide wire handling is the ability to maneuver the wire untethered. The new Verrata™ pressure guide wire quickly disconnects and reliably reconnects, freeing physicians to steer just like a frontline wire. Try Verrata today and experience the freedom of untethered steering from tip to clip.

Verrata Workflow
Click on a thumbnail below to see each image in a larger size.

FAMILIAR FRONTLINE TIP
Industry standard flat-tip construction for easy tip shaping and tip shape retention.
Preformed J-shaped tip is always directed toward the sensor, guarding against whipping artifact.
Industry Standard Flat-Tip Construction
Comparative Tip Load1
QUICKLY DISCONNECT AND RELIABLY RECONNECT
New proximal wire design resists kinks and repels moisture.
New clip connector provides multiple back up contact points for a secure signal.
Verrata allows free wire rotation when connected.
---
Verrata Videos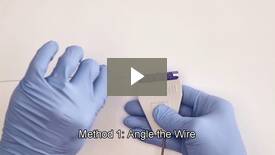 How To Connect Verrata
---
SUPPORTING INFORMATION: DOWNLOADS
Click on the file name below to view the PDF document. Verrata™ data sheet Verrata™ sell sheet
---
TECHNICAL SPECIFICATIONS
Click on the image below to see it in a larger size.


---
Order Information:
| | | |
| --- | --- | --- |
| Model | Length | Tip |
| 10185 | 185 cm | Straight |
| 10185J | 185 cm | J-Tip |
| 10300 | 300 cm | Straight |
| 10300J | 300 cm | J-Tip |
---
1. Tip Load, n=5 of each wire, data on file at Volcano Corporation.
---
For more information on Volcano Products, please click here.
For product IFU files, please click here.
---